ShineWing International Mobility Program continued to support our development priorities in China-India business
03 January 2020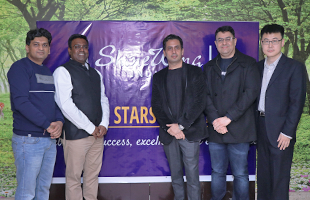 To further enhance ShineWing India's capabilities in serving Chinese clients and foster the relationship between ShineWing China and ShineWing India, an experienced staff from China was sent to India for one-year secondment under the ShineWing International Mobility Program.
Previously based in the Changchun office of ShineWing China, Mr. Ran Duan, offers professional expertise in audits for large-scale state-owned enterprises and listed companies.  Duan leads audit projects in field and delivers technical support.  His expertise is in the fields of manufacturing, consumer goods and trade.  He has profound experience in local and international audit, financial reporting and due diligence.
Duan is currently assigned to be the Head of China Desk in ShineWing India.  His role is to assist Chinese companies in India to establish business operations and provide advice on those accounting and compliance issues.  It is believed that his expertise would help to facilitate the current and prospective projects and enable the growth and development of Chinese companies in India.
ShineWing India joined the ShineWing network as a member firm in October, 2018.  Being one of the Top ten emerging accounting firms in India, ShineWing India has clients spanning across global Fortune 500 companies, big conglomerates, listed companies and start-ups in India.  With 7 offices in India, ShineWing India has reached a significant increase in staff figures from 200 to over 300 in a year after joining ShineWing International. 
The ShineWing International Mobility Program, which was initiated in 2016, aims to promote international transfers and cross-border collaboration among ShineWing member firms.  The program has benefited ShineWing China, Hong Kong, Australia and Indonesia so far.  ShineWing China will also continue to send staff to other parts of the world, including Europe.  The International Mobility Program not only helps to broaden the international horizon and develop global mindsets of our staff, but also promotes the mutual learning and cooperation among member firms, in particular strengthens their understanding of the Chinese market and our service capabilities in serving Chinese clients.  By leveraging workforce mobility, this program would nurture young leaders with global experience, helping to meet the firm's business objectives and global growth strategies.